Volume 2, Number 6 - June 1997
Journal of the Home Metal Shop Club of Houston, Texas
President - John Korman, V. Pres.- Richard Drews, Treasurer - Alan May, Secretary - J.D. Wise Editor - George Carlson , Email geotek@flex.net
General News and Events
Miser Project
By now I'm sure that everyone who purchased a Miser kit has it well under way. Be sure to bring it to the next meeting.
Field Trip On June 24th
Tentatively, we will be going on a tour of an EDM shop on the evening of the 24th. Details as to where to meet, and time, will be decided at the meeting on June 21st. Please call George Marsden if you have questions. George's number is 281-358-3729.
Membership Information
Membership is open to all those interested in machining metal and tinkering with machines. We currently have members that have considerable backgrounds in the hobby, and other members that are just starting. The purpose of the club is to provide a forum for the exchanging of ideas and information. This includes, to a large degree, education in the art of machine tools and practices. There is a severe shortage of written information that a beginning hobbyist can use. This makes an organization such as this even more important. Please send in your dues to help keep this club in sound financial shape and continue to help more people get into this fascinating hobby. For membership information and forms, call John Korman at (713) 723-8597.
---
More Workholding
by George Carlson
From time to time it becomes necessary to machine components that defy normal workholding techniques such as using vises, chucks, and clamps. These may be parts that have to be machined all over, or are very small, or very delicate. Many times the solution to this problem is the use of an adhesive to hold the part while it is being machined.
Adhesives can be of many types. One of my favorites is soft solder. Also, epoxies, super glue, and Lock-Tight work very well.
The drawing below is a part used in the reversing gear of a Stuart 5A steam engine.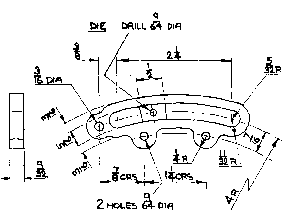 The part is fairly large, but it has a rather complex shape that must be machined all over. To machine this part, I soft soldered it to a scrape piece of 1/4" steel. Using AutoCAD I was able to redraw the part and determine a little more dimensioning information than what was shown on the original print. Using AutoCAD, or other CAD software, can save a lot of time and calculator keystrokes.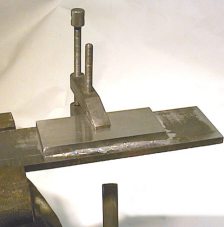 To solder the workpiece to the steel back-up plate I used the following procedure: First both the workpiece and the back-up plate were cleaned and degreased. I then coated both of the mating surfaces with Black Swan soldering paste. This material is a mixture of solder and flux made for soldering copper tubing. It's a little hard to find because it is a tin/lead solder, but I found it at a Sears hardware center. Acid core solder would also work, but this stuff is easier to get under parts without having to pre-tin. The two parts are held together using a small amount of pressure while the entire assembly is heated with a propane torch. When the solder starts to melt you can see the shiny metal start to flow from under the flux. Tighten the clamp and allow the assembly to cool. When cool, wash the flux off with water, dry and apply a little oil. It is a good idea to keep the flux away from nice surfaces such as the top of a rotary table.
As shown in the photo, mount the assembly on the rotary table and start machining. I used a sheet of printer paper between the assembly and the table top to protect the surface and prevent slipping.
The finished part and connecting parts are shown in the photo below.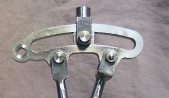 Super glue and epoxies are good for holding parts in the lathe. I once machined a large lens cap for a camera by epoxying a delrin blank to a freshly faced aluminum piece in the lathe. After the epoxy was applied. I used the tailstock to clamp the delrin in place while the epoxy set-up. The cap was less than 0.25" thick with a rim that was only 0.05" wide. There was no way to hold it directly in the chuck.
Lock-Tight is good for holding pieces on arbors and mandrels. This works well when the outside of a piece must be turned concentric to a hole bored through it. To do this, first make an arbor by turning a piece of material just a hair smaller than the I.D. of the workpiece. Without removing the arbor from the chuck, coat it with some lock-tight. Use the red, high strength type. Slide the workpiece over the arbor and allow the lock-tight to cure. In most cases 10 to 15 minutes is all that is needed. Do the required machining and remove the workpiece by heating it with a hot air gun or propane torch. It doesn't take a whole lot of heat to do this, probably about 200 to 300F is all.
A good source of further information on clever uses of solder and adhesives for workholding can be found in books such as Building the Heisler by Kozo Hiraoka. He details the construction of many complex components used in the steam locomotive models.
---
Shop Helpers
To aid in the installation and removal of threaded lathe chucks John suggests the following tool.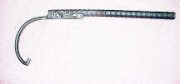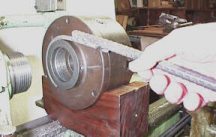 Another hint from John Korman is to use a steel rule to aid in the setting of tool height.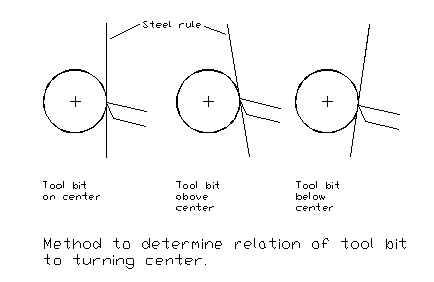 Using a router in the metal lathe.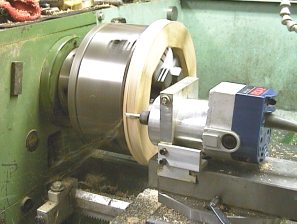 George Carlson built an adapter to mount a trim router to the compound of his lathe. It was originally built to cut threads for large wooden bench screws. A 60 degree pointed router bit is used to cut the male threads. The nuts are made using a double angle cutter that also cuts a 60 degree thread form. In this photo he is making the base of his "Miser" stirling engine.
---
Why I became a Machinist
I looked at a lot of different jobs and here is what I found out about machinists.
When machinists go hunting, they generally get bigger deer than most folks. When they go fishing, they generally catch so many fish that their arms get tired from reeling them in.
Machinists tend to be better looking than the average. This means they have better social lives than almost anybody else. Some folks from a university did a study and found that machinists get lucky about 43 times as often as most folks. At least that's what I heard.
Machinists almost always have better-looking spouses, smarter kids, greener lawns, redder roses, and generally seem to have fewer weeds in the garden. Their cars seem to run a little faster and use a little less gas. Things generally seem to work better for a machinist than they do for the rest of the world.
Machinists do things that no one else can do. They live and excel in a world where things too small to see make a big difference. They possess special skills and unique knowledge.
Machinists do real work in a world full of made-up stuff. Machinists make real things like cars and tools and a better America.
Machinists tend to be more honest, better friends, and slightly better adjusted than the world in general. It comes from making a career in a professional world of exact specifications and real deadlines. It seems to show in their character.
Machinists just generally seem to be clearly superior human beings, which is why I am a machinist. That, and all the good jobs were taken.
Source Unknown (rec.crafts.metalworking newsgroup on the internet)
---
Shop of the Month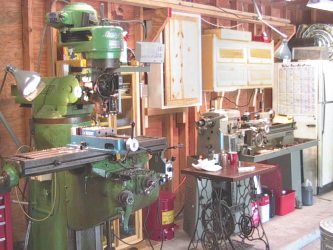 This is John Waits shop. John is quite an accomplished wood-worker and has, within the last couple years, decided to tackle metal working. Like most of us, the majority of the projects turned out so far have been tools. Although, I saw a gate latch he made that could hold back an army. The mill is a Bridgeport with a Mitutoyo DRO. The lathe is a 10" Clausing. He has both gas and electric welding equipment. His 4x6 cutoff bandsaw is mounted on a shopmade stand he built from the plans in the April newsletter.
---
Sources of Material
From time to time we get requests for information on where in the Houston area things such as metal, tools, and other materials can be purchased. This list was originally published in the July 1996 newsletter. It has been updated and added to a bit. Be sure to save it for reference.
Rutland Tool and Supply --- Rutland has a store here in Houston and sells a wide range of machine and cutting tools. 6605 Roxburgh, Suite 100, Houston Ph 713-937-4787
Wholesale Tool --- This company also has a store in Houston and sells machine shop supplies and tools. 8100 Pinemont, Houston Ph 713-895-7777
Bass Tool & Supply --- Bass Tool is a Houston company that sells high quality cutting tools and supplies. 10600 Hempstead #100 Houston Ph 713-682-1889
MSC Industrial Supply --- NY based with a huge catalog and very good service. Machine tools, supplies, and cutting tools. Ph 1-800-645-7270
Rose Steel Center --- Rose is my favorite place to get new and old steel, also aluminum and stainless. 2001 Taylor ( 1 block South of I10 ) Ph 713-880-7088
Triple-S Steel Supply --- New and used steel. 6000 Jenson Drive Ph 713-697-7105
Union Iron and Metal --- New and used steel, sometimes they have old machine tools for scrap. 2820 Holmes Road Ph 713-799-9960
Trident Company --- New aluminum and stainless as well as CR 1018 for fine work. Sometimes they have barrels with drops they sell at a much reduced price. 9501 Baythorne Ph 713-462-2410
Electronic Parts Outlet --- New and surplus electronic parts, some mechanical parts such as motors etc. 3753-B Fondren Ph 713-784-0140
J&T Industries --- This is a REAL surplus dealer. Although they have mostly electronic stuff, they also have all sorts of other surplus items, mostly military 5025B Gessner Rd. Ph 713-896-0025
J&L Industrial Supply --- This is the local sales office for a very large metalworking products supplier. 13230 Hempstead Hwy., Ph 800-521-9520
Lathrop's Jeweler Supplies --- An excelect source of small tools, sheet copper and brass, investment casting materials, and plating equipment and supplies. 6704 Ferris Street, Bellaire, Ph 713-665-2699
Regal Plastic Supply --- This is the best and easiest place in town to buy all types of plastics. Scrap acrylic is only 50 cents a pound. 1700 Wirt Rd., Ph 713-957-854
---